About Us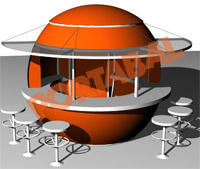 "Portabal Büfe & Kiosks" which is a Egemen Kabin Sistemleri A.Ş. company which produces fruit, flower and many more shaped buffets & kiosks. The products are over the standart quality which have eye catching designs giving the ability to function in a variety of locations
Our firm works for easy communication with the customer and the buffet owner. It is vital nowadays to be different than the usual corner buffets / kiosks to be able to maintain a friendly relationship with the customers while giving the city an estetic look with a fresh surrounding.
The production materials and ways are vital very important for Portabal. The decisions we made in the materials we use makes our products usabe in outdoors for many years; very resistant to fire, rain and sunlight with the special paint. With these properties our products are the choice of our customers who use them in beaches, aqua parks, gyms, out door parks and festival areas which contains high circulation of air an moisture plus other risks.
For entrepreneurs who wants an instant result and a sustainable investment; our Portabal buffet and kiosks gives you between 200% - 300% revenue per Portabal comparing to a traditional buffet.

For more information, visit us at our office, located at present to examine closely our buffet, please contact with us.